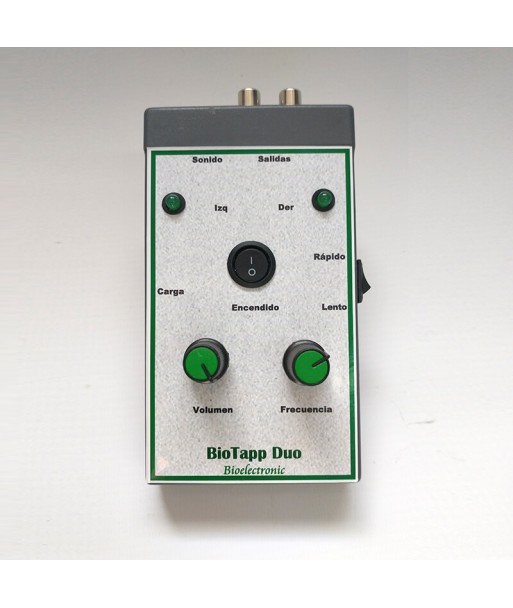  
BioTapp Duo
Equipment for the deprogramming of traumatic situations
Shipping Policy
Your peace of mind is our insurance to continue evolving together.
The BioTapp Duo arises from EMDR (Eye Movement Desensitization and Reprocessing) therapy.

It is an effective method to desensitize and reprocess psychological trauma, reducing emotional pain.

The method reveals that the brain processes in block. That is to say, that the stimulation has the same efficacy, if it is by eye movement, by auditory or kinesthetic stimuli. Based on this, the Biotapp Duo generates bilateral kinesthetic and auditory stimulation. It does this through gentle tapping or vibrations (tapping) and through sounds transmitted sequentially into the ears, thus stimulating the brain hemispheres alternately. This usually generates involuntary eye movements, which deepen desensitization, producing block reprocessing.
EMDR is a method stemming from new advances in neuroscience, which gave rise to the bilateral and alternate stimulation procedure. And from there emerged different techniques and procedures aimed at reducing and/or eliminating emotional pain. In some cases, it combines the discoveries of neuroscience with the knowledge of Traditional Chinese Medicine applied to unblocking emotions.
The objective of this therapy is to help people who have suffered traumatic events (such as duels, abuse, physical or psychological violence, accidents or unexpected and traumatic situations, or who suffer from anxiety, depression, phobias or panic attacks, among others). It is also used in environmental and/or social catastrophes that emotionally affect a population.
The EMDR method is applied by focusing attention on the memory of the traumatic experience experienced by the subject, and performing bilateral stimulation with the appropriate procedure. EMDR tools and therapies based on Neurosciences, Traditional Chinese Medicine and cellular memory can be combined, applying the use of the BioTapp Duo.
The BioTapp Duo can be used both by individuals who are not in therapy and by professional therapists.
The different modes of use are:
No therapeutic treatment - Reduce and desensitize moderate emotional discomfort. - Promote pleasant and pleasant events that provide resources of trust, security, happiness and well-being. - Reduce and/or eliminate the discomfort caused by minor annoying events that do not require professional supervision. It is advisable to consult a professional in case of any doubt.
With therapeutic treatment - Application with the professional therapist in the office. - Desensitize traumatic events for people who have been in therapy, or continue in it. .
Work on situations of phobias or panic attacks "in situ", in the middle of the stressful situation, such as a panic attack, phobia inside an elevator or in a space that generates claustrophobia, on the plane, while driving the car, etc.
It can be used before, and/or during the stress situation. The effectiveness of the method would make it possible to get to the core of the trauma in very few sessions and in most cases eliminate emotional pain or significantly reduce it.
The BioTapp Duo is a device that generates vibrations and sounds coordinated with each other, bilaterally, that is, left and right sequentially. The stimulating vibrations are carried out by means of vibrating micro motors that are held in both hands or placed in different areas of the body. The sounds are transmitted through headphones provided with the equipment.
Two green leds that indicate the moment of stimulation and can also serve as visual stimulation. It has volume and tone (frequency) control of the sounds and also 2 motor stimulation speeds, slow and fast.
It uses a micro USB rechargeable battery and is supplied with the corresponding cable for charging.