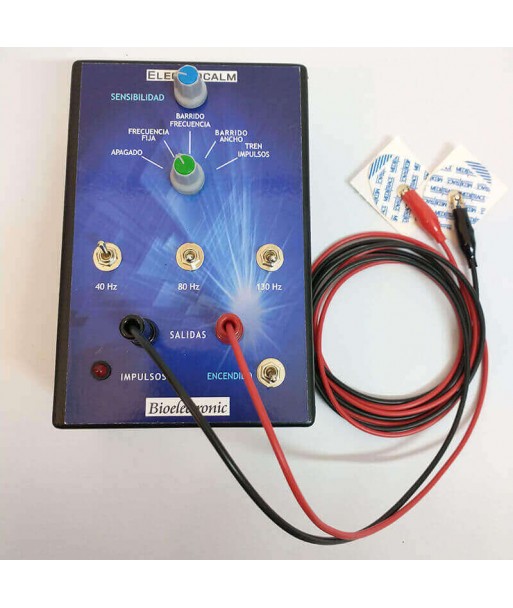  
Electrocalm
Analgesic equipment (TENS) for bone and muscle pain
Shipping Policy
Your peace of mind is our insurance to continue evolving together.
Electrocalm is an electronic stimulator that is applied to the body using electrodes and has an analgesic effect, since it eliminates pain naturally. It does this thanks to its double effect of neutralizing the electrical impulses of pain and simultaneously generating beta endorphins, that is, natural substances with analgesic action. It works with a "Chinese wave" with staggered frequencies from 2 to 130 Hz. In addition to being able to adjust the sensitivity for each patient, the width of the Chinese wave impulses and its frequency can also be varied, in an alternate "sweeping" manner. The "impulse train" function significantly prolongs the analgesia time.
Recommended for muscle and bone pain such as arthritis, osteoarthritis, torticollis, post-traumatic pain such as those caused by fractures, dislocations, strains, sprains or tendinitis. Pain due to irritation of nerve centers such as herniated discs and sciatic nerves, neuralgia, headaches and hemicrania, and post-herpes pain.
Supplied with cables with clips for the application of self-adhesive electrodes for greater comfort and efficiency. It has connection for external power supply, included. Your cabinet is fully portable.
Technical specifications:
Type of wave: China
Frequency bands: 4 selectable bands:
2 – 5 Hz
30 – 50 Hz
70 – 90 Hz
100 – 150 Hz
Variable sensitivity with potentiometer
Four modes of use:
1. Fixed frequency pulse
2. Frequency sweep
3. Width sweep
4. Train pulse

Positive pulse voltage: variable up to 100 V
Negative pulse voltage: variable up to 33 V
Dimensions: 150 x 96 x 63 mm


Watch Video
We present the third part of the Conference given by Claudio Sadoly, during the PUNTA DEL ESTE INTERNATIONAL HOLISTIC EXPO 2013. In this conference the characteristics of the equipment that Bioelectronic manufactures, its benefits and applications.
Part 3: Generation, Acuplus, Electrocalm, Colloidal Silver Equipment and Bio-relax1